A Bird's Eye View of Art Nouveau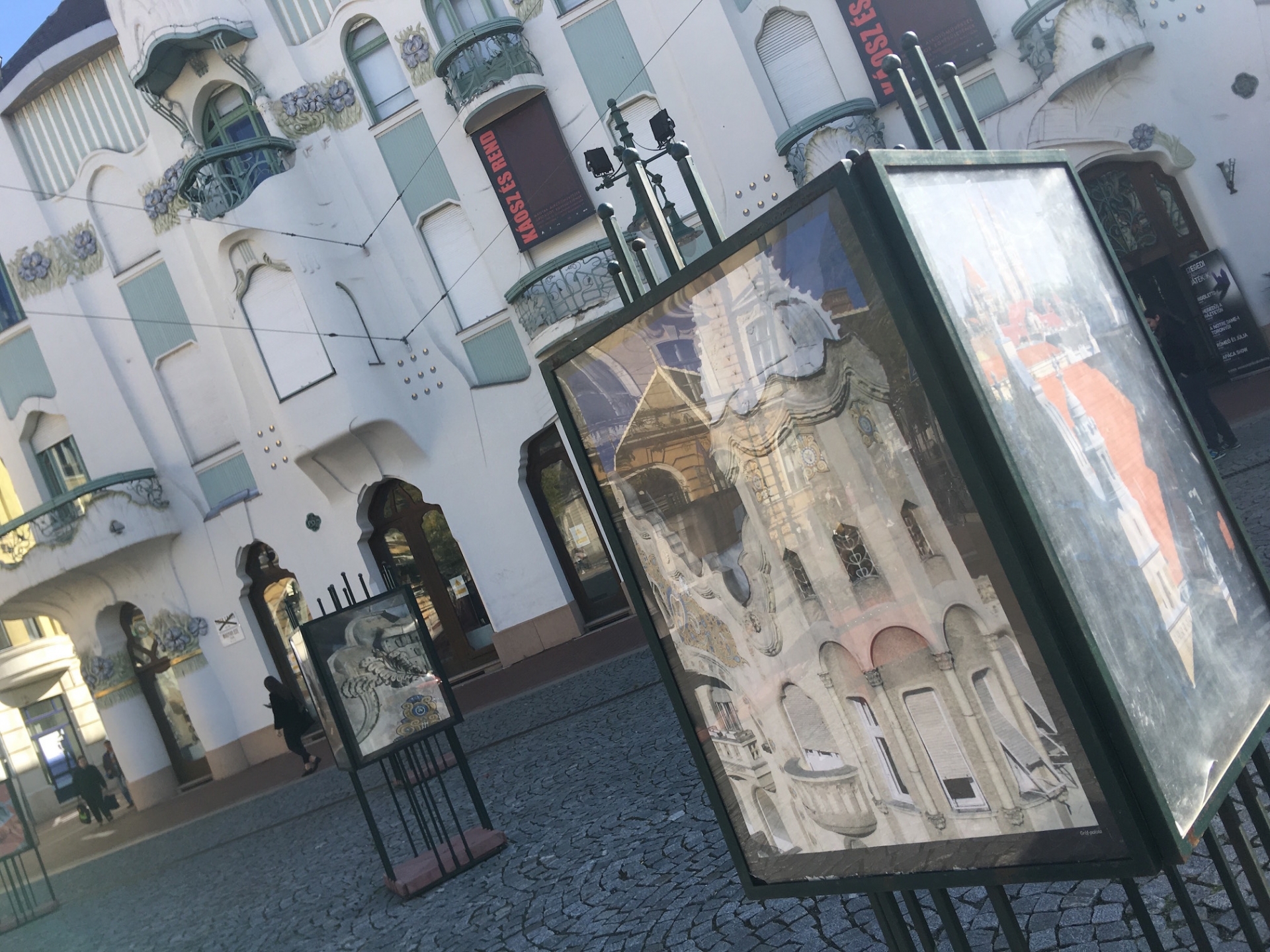 A photo exhibition set up in front of the Reök Palace shows Szeged's most beautiful art nouveau buildings from an unusual perspective. The emphasis is on details that are often hidden from view.
An exhibition of recent drone photos taken of 14 lovely Szeged buildings are now on display for passers-by on Ede Magyar Square. The exhibition's title also refers to an anecdote told about Ödön Lechner, one of the greatest geniuses of Hungarian art nouveau architecture. The story goes that one of Lechner's students had lodged the criticism that it was a shame to design such a splendid roof for one of the master's palaces, because nothing could be seen of it from street level. To this, Lechner replied, "The birds will see them!"
The collection being displayed in front of the Reök Palace uses this thinking as its starting point. The novelty of the images is the fact that they show these stunning buildings from an angle that we only rarely see them, if ever. These thrilling photos reveal hidden details.
The Reök Palace, built in 1907, is the most beautiful art nouveau building in Szeged, and perhaps all of Hungary. Often compared to Gaudí's structures in Barcelona, it was designed by the brilliant architect Ede Magyar as a residence for the hydraulic engineer Iván Reök. Even by European standards, the palace is one of the finest examples of art nouveau architecture. It serves as the point of origin for the A Bird's Eye View of Art Nouveau exhibition.
Also included in the overview along with from the palace are the Ungár-Mayer House, also designed by Magyar, and the Raichle Palace. The latter was built based on the plans of architect J. Ferenc Raichle, a leading light of the art nouveau style in the Vojvodina region, in the same year that the Reök Palace was completed. Raichle was also responsible for the Gróf Palace, a beautiful and iconic Szeged building that also appears among the photos. Other images include the Deutsch Palace, the New Synagogue and the Tömörkény High School building.
The exhibition will remain open in front of the REÖK Regional Art Center until 20 December. Compiled from footage from EURO-TV, it was organised by students working on a curatorial specialisation in the University of Szeged's philosophy master's degree programme under the direction of art historian Dr Róbert Nátyi.