First week of REÖK's Mucha exhibition an incredible success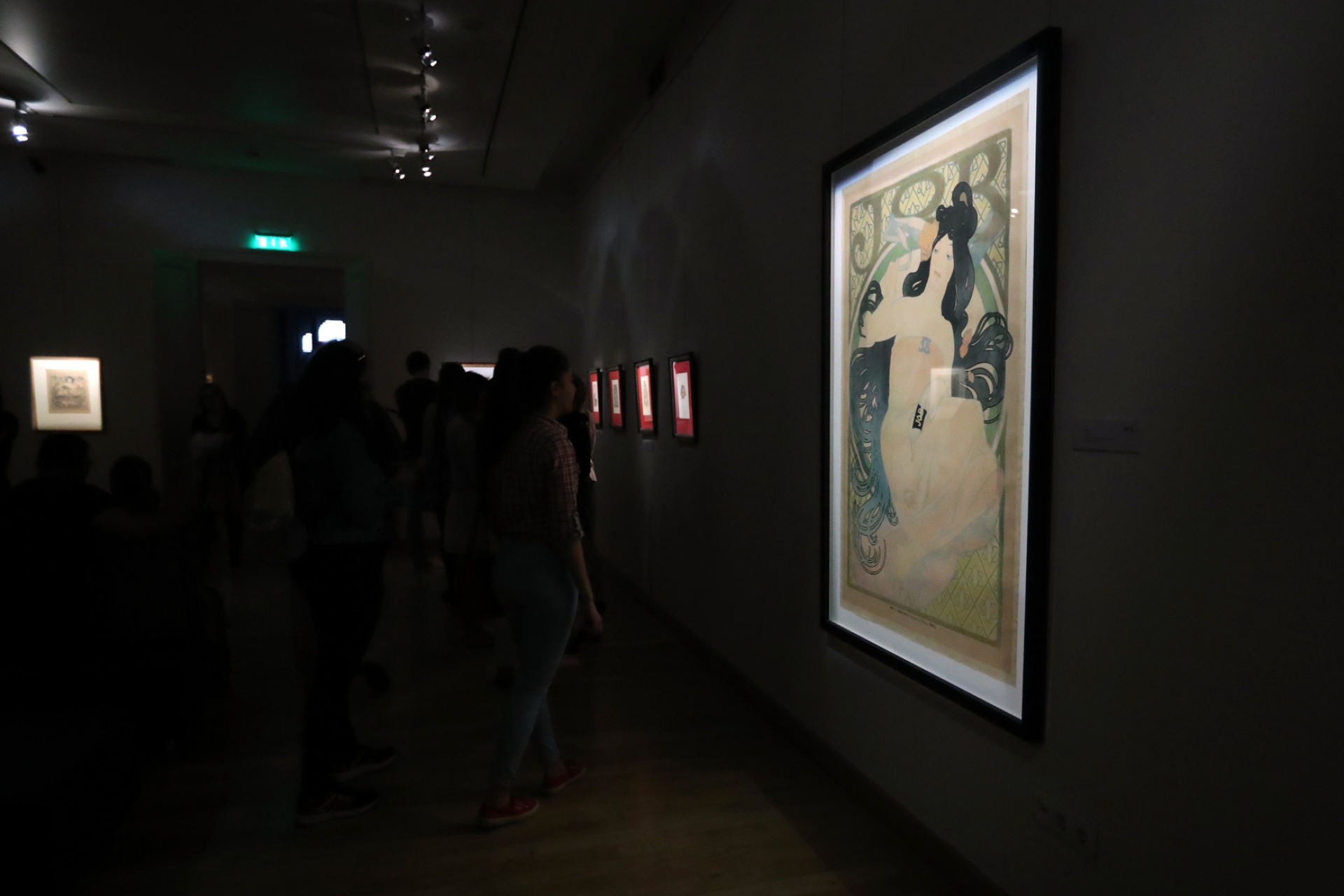 Nearly 500 curious visitors were at hand on the opening day of this exposition of eye-catching works by the popular master of art nouveau, with many more arriving at the palace in steady streams since then. Eyes demurely downcast, Mucha's delicately sensual female figures are enjoying being the centre of attention.
This collection of works by Alfons Mucha opened at the Reök Palace a week ago, and already the exhibition building has been welcoming visitors in numbers never before seen over the past ten years. Each day brings several school groups and innumerable individual guests to the darkened galleries to marvel at the lushly sprawling art nouveau graphics illuminated in warm lighting.
"Nearly 500 visitors came to attend our opening event," said REÖK's pleased director, Tamás Herczeg. "Only half of the crowd could fit into the galleries at once, and it was incredible to see how the others waited an hour and a half to get in. I really never have seen anything like this over the last decade."
The director also said that, in this anniversary year, there will also be works by other world-famous masters presented at REÖK. "In mid-summer, works by Salvador Dalí will be arriving in Szeged. The Muchas on loan from Prague and the Hungarian University of Fine Arts will remain on display until May. Another reason we are very happy about the tremendous success is because this is the first large-scale art nouveau exhibition to be mounted in Hungary's loveliest art nouveau palace.
The gently twisting tendrils of Alfons Mucha's iconic pastel world are indeed eerily reminiscent of the patterns on the palace's facade. Draped in silky garments flowing delicately from their shoulders and brooding with desire, the female figures create a magical world in the exhibition spaces. The observant will also detect the Reök palace's iconic flower motif in one of the images of the Flowers series.
The exhibition showcases these works chronologically, starting with the 1890s. Beginning with the well-known posters printed for Sarah Bernhardt, it features advertising designs of a category that has only rarely been seen in Hungary. The REÖK exhibition provides a fascinating glimpse into the artist's oeuvre.
Tamás Herczeg also noted that in this anniversary year, only a nominal price would be charged for admission to all of REÖK's exhibitions. "The ticket also serves as a voucher in the same amount, good for entrance to a later exhibition, or for purchasing gift items, books, art objects or even Szeged Open-Air Festival tickets on sale in the ticket office," he said.